This is part two of our three part series looking at the HQ's available in the new Tau codex. For part one, please click
here
.
In the previous codex there was really no reason to want to take and Ethereal, they were weak, didn't do much, and if one died your entire army had to take a leadership check… and Tau leadership isn't that great. So have they gotten any better? Let's first examine the generic Ethereal and then move on to the two characters, Aun'Shi and Aun'Va.
The Generic Ethereal


Coming in at 50 points this is our cheapest HQ option, and probably the most fragile. The generic Ethereal has no armor save and no options to get one. It does have an Initiative a single point better than your standard Firewarrior,3 base attacks and weapon skill 4?... This is really odd because there is no way you would ever want to get this guy into close combat, the two close combat upgrades feel almost like a joke as well; AP4? +2 Strength? Who is scared of strength 5 Tau?
But he/she/it does come with several good special rules; one is a 12" Ld10 bubble, another is stubborn to any unit it joins and finally "Invocation of the Elements". Pay attention because this is where it gets interesting. On its movement phase the Ethereal gets to select one special rule to confer to every non-vehicle unit within 12"; think of it as an IG orders only they happen automatically. You have the option to:
Make all models stubborn
Fire an extra pulse weapon shot when shooting at half range (aka the triple-Tap), which works on Kroot as well
Feel no pain on a 6+ (hooray?)
A unit can run and still fire snap shots after moving
The best part is you can reuse a single power indefinitely, although if you lose the Ethereal the power ends immediately. Speaking of losing an Ethereal, if he dies he gives your opponent 2(!) victory points, in a game where 1-2 points makes all the difference this is something that really bears consideration.
The powers the Ethereal grants is really designed for a mass gun line of Firewarriors; which as luck would have it is the best way to protect it. Add on a shield drone or two and maybe even a Homing beacon in case you need to call in some reserves for a "danger-close" deep strike. The nice thing about the Ethereal is that the powers are bubble so if you huddle 2-3 squads of troops near it you can expect a veritable wall of S5 against anything that comes close. The trick is just keeping him alive.
Aun'Shi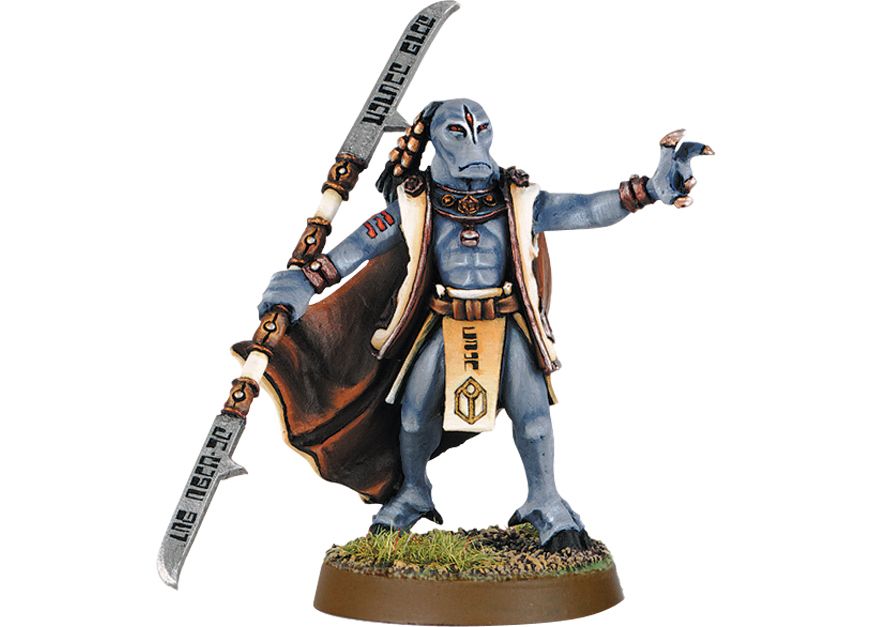 So what happens if you double the points of an Ethereal and slap a name on it? You get double the awesomeness right?...ummmm.
The Blade master has all the special rules as a generic Ethereal plus one more."Blade master" let's you pick one of two different stance while in close combat (rending and rerolling saves). He does have a 4++ but honestly that won't stop a whole lot when you get jumped by a dedicated assault unit. And therein lies the problem; he's a close combat model you would never want to take into close combat. His save sucks; he only has 4 attacks, I5, and WS5. Sure it's impressive by Tau standards but anything from any other codex is going to laugh at you when you decide to charge with him. Oh yeah he has EMP and Photon grenades but if you're doing your job right he should never need to use either of them.
Aun'Va


I was getting ready t o say that you should always take Aun'Va over Aun'Shi because he gets to fire off two Element powers instead of one, everyone in the army gets to reroll their leadership and moral checks, he gets to shrug off any wound when you roll a D6 over the shot's AP (bring on the plasma!), and once a game can order the whole army back up from ground, and has a couple of body guards. Not only is he a few a points cheaper than Aun'Shi, but is exactly what you would expect when you are paying double the points of a generic Ethereal. That was until I saw he isn't an independent character.
That's right, this guy and his guards can't join a squad meaning he is going to be target number one of any drop podding or deep striking units and will give up those two points pretty easily to massed bolter fire. I would suggest you hide him in a Devilfish, but fishes can't hold bulky models… Darn.
In Summary
So let's do a quick recap, of the three Ethereal options the one only one that should really be of any interest is the cheapest variant, the other two are either over priced, or too fragile to be of any use.

Generic Ethereal: Cheap, easy to kill, gives two points for slaying a Warlord, but can hand out some serious buffs to surrounding units with several "bubbles". I think he is actually a pretty good HQ but you need to use him wisely and build you tactics around him and maximizes his protection.

Aun'Shi: Double the price of the generic version but all those points go to close combat toys that are pretty sad by non-Tau standards. It's a fun model, but a poor HQ choice.

Aun'Va: So close, and yet so far. His abilities are impressive and fairly desirable; however he's a soft target and you can expect to lose him pretty quickly. Once again: a poor choice for your HQ.