The most awesomest flyer in the game is back!

Forgeworld's bulletin just dropped HERE



Dang. That is sexy. Presumably, this will be our Interceptor for the new flyer rules. We will have to wait and see what the exact stats are after Warhammer Fest.



More weapon options now! Seekers are still an option (or included) which is great because they were a perfect weapon on the flyers.

Main Guns:


Ion Cannon
Burst weapon. This looks like the Heavy variant, not the Long-barrelled version, which would be a big improvement.
Rail weapon. Hopefully a Railgun, but I am inclined to think that it is more likely a Heavy Rail Rifle.
Missile Pod appears to still be there. Good all-around weapon to have.
Secondaries
Burst Cannons. I assume they will still be auto-tracking
Cyclic Ion Blasters. Oh heck yeah! More S7 shooting! probably not auto-tracking though, that would be too much.
I am digging the main weapon options and love that we have an option for the turrets. If this is what it looks like, you could be pumping out a TON of anti-air shots.
If those are true cycle ion blasters, then this puppy could drop
eleven
S7 shots on an enemy flyer. If it is still BS4 then you could kill an AV10 flyer with 2 HP no problem, maybe even 3 HP. Probably pretty expensive way to kit it out though.
For reference, this is what the old Barracuda model looks like: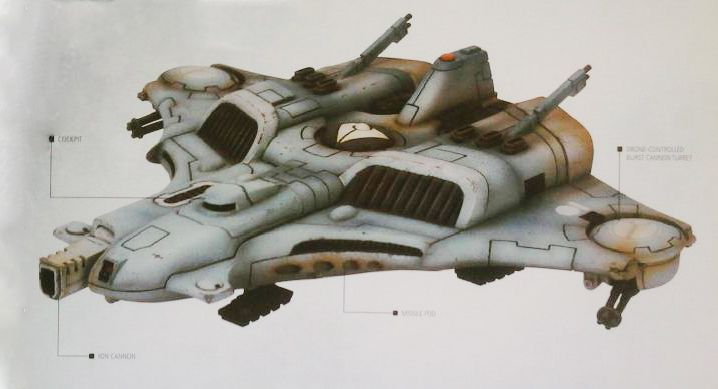 As you can see, the design has been changed to a more aerodynamic looking one, taking design cues from the Tigershark. I am incredibly pleased, though I know of some players who prefer the stumpy barracuda. Can't please everyone, but I think that in this case Forgeworld hit a home run and pleased
almost
everyone.
Share the good news! Tau are going to own the skies once more!